Workshop on Curriculum Design and Content Development
Sukhvinder Singh, Assistant professor, Baba Farid College of Education, Deon, Bathinda has participated and successfully completed Workshop on Curriculum Design and Content Development organized by Faculty Development Centre, Department of Education and Community Service, Punjabi University, Patiala under the scheme of Pandit Madan Mohan Malaviya National Mission on Teachers and Teaching, MHRD, Government of India from 22nd June to 5th July 2019.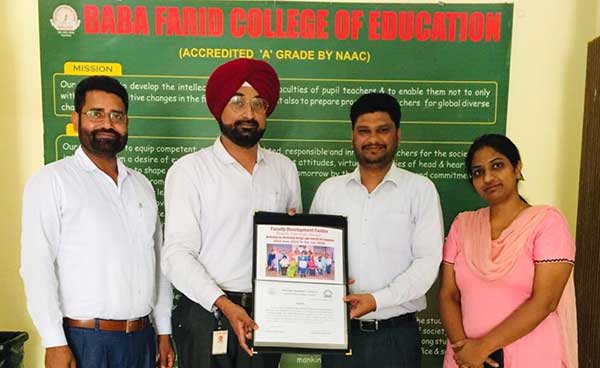 BFCE student won the Prize for the article in Newspaper.
B.Ed. student Baljinder Singh sent an article entitled "Who is responsible for expensive education" to Punjabi Tribune which was Published on 27 April, 2017. He won first Prize for writing such a worthy article. Punjabi Tribune sent him Appreciation Letter as well as Book named "Andh Koop".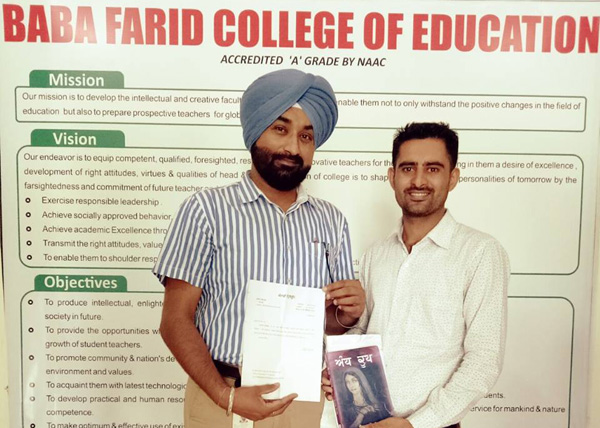 BFCE student has sent their article in Newspaper.
Naujawan Soch: Who is Responsible for expensive education. On this topic the budding writers (B.Ed. student) expressed their healthy views. Students are Tarsem Singh, Kulwinder Kaur, Baljinder Singh.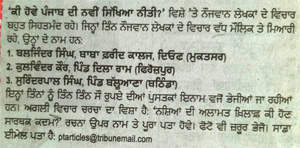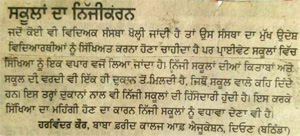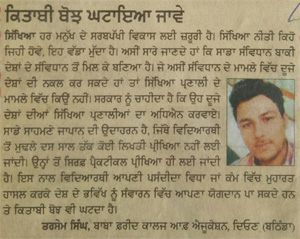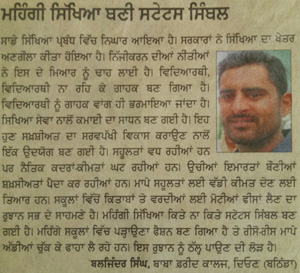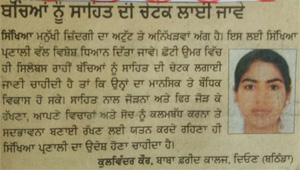 BFCE has released 8 editions of 'Umang' Magazine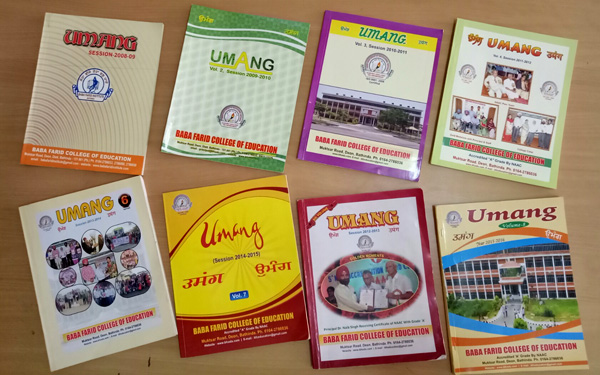 Mr. Kulwinder has Published five Books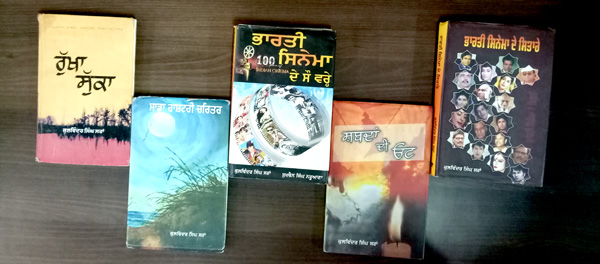 BFCE has Published his National Seminar Book "Policy Concerns in Indian School Education" in 2016.
National seminar ponders over serious challenges which our education system in general and the school education in particular are facing. It will definitely help our policy makers & educationists to shape the education system in the right Prospects. In this book educators, class teachers , scholars, Principal's papers are Published. Chief Editor of this book is Mr. Kulwinder Singh and Editors : Sapna Soni, Parwinder Singh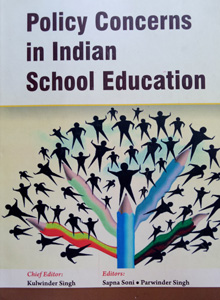 BFCE has Published his Book "Trend and Issues in Education" in 2014
Baba Farid College of Education has always been taking initiatives in various fields like Publishing College Magazine 'Umang', Wall Magazine 'Surkhab' , Organizing and Presenting Papers by staff & student in various national & international seminars, taking new steps to modern Method and techniques of teaching. It gives Practical Knowledge to its Pupil- Teachers and also motivates them to be familiar with literature. The aim of BFCE is not to produce just formal teachers but the real intellectual gems which can form a noble society. Mr. Kulwinder Singh and Mr. Jagjit Singh Sandhu has taken a very good step in research & Publication.